<h1 style="font-size:25px; text-align: left;">The Fish</h1>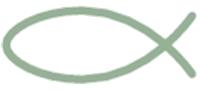 Followers of Jesus Christ or "Christians" as they became known, began using the Greek word for "fish" as an anagram/acronym for Jesus Christ, God's Son, Saviour, sometime within the first three centuries AD.
Founded by a guy who believes in Jesus Christ, Communisage and Cytes exists for one reason – to serve and glorify God, without whom, we would not exist.
Our business principles involve integrity, trust, honesty, fairness, respect, compassion and being responsive to people's needs without sermonising.
Communisage and Cytes aim to consistently serve its customers with excellent products and services and its suppliers and employees with monetary compensation in order to bring value to their lives as members of God's global family community.
Mike Cowburn
Founder & Managing Director
Cytes & Communisage Limited
About Life & God click here